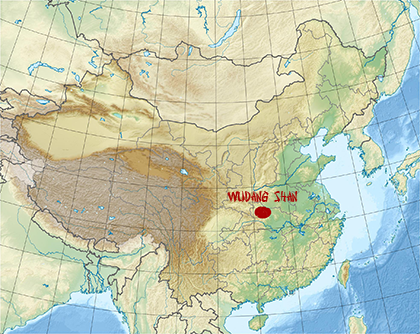 In Wudang we shall study Qigong and Tai Chi with Master Zhou Jin Bo. We will be learning a Wudang form of qigong and Tai Chi in the mountains of Wudang, home for centuries of Taoist martial arts and qigong masters.
We will also explore the Daoist Temples, visit a cave dwelling monk, tea tastings, visit parks, see monkeys and incredible beauty!
Why Wudang? It is one of the sacred mountains of China (one of the four sacred mountains of Taoism), home to a famous complex of Taoist temples and monasteries, and renowned for the practice of Tai Chi and Taoism as the Taoist counterpart to the Shaolin Monastery. The monasteries are a UNESCO World Heritage Site.
At the first national martial arts tournament organized by the Central Guoshu Institute in 1928, participants were separated into practitioners of Shaolin and Wudang styles. Styles considered to belong to the latter group, called Wudangquan, are those with a strong element of Taoist neidan exercises. Typical examples of Wudangquan are Taijiquan, Xingyiquan and Baguazhang. According to legend, Taijiquan was created by the Taoist hermit Zhang Sanfeng, who lived in the Wudang mountains.
We will be studying with Master Zhou Jin Bo a disciple of Wudang long men section. Having researched Taoism for a long time, and having studied Tao gongfu from 10 years old, he has gained reputation from various competitions, including the champion of Wu xing boxing of China (2007). He has been invited to visit different countries as an outstanding representative of Wudang gongfu and Tao culture. He has students all over the world. He teaches students the most practical gongfu and knowledge.
Accomplishments of Master Zhou include:
Awarded Bronze Medal in Shangrao, Jiangxi Province at the 3rd National Wushu Cradles Competition, 2000
Awarded Runner-up in Hunan Sanda King Competition, 2001
warded CCTV Wushu Masters Taiyi Wuxing Quan general Champion 2007
Awarded Mightiest Fighter for defeating Shaolin Wuzu Quan, 2008
Wudang Daoist Wushu School - Principal
Wudang Wushu Successor
Wudang Wushu Association Member
National Wushu 6 Duan
Master Zhou's martial arts school, Wudang Daoist Wushu School, located on Wudang mountain adjacent to the Grinding Needle Well, and some of his students, have also received many awards and titles. The school teaches several forms of martial arts, including Taiji, Qigong, and Gongfu. These include boxing, sword, fighting, health preservation, and basic movements.
This will be a seven-day immersion into the sacred arts of Wudang! We will also spend time hiking and visiting some of the many Taoist temples there, drinking tea in the temple teahouse and visiting our friend Jiaye, who has lived in a cave above the Purple Heaven Temple for over 20 years!
Click here on this link to the wikipedia page for Wudang Shan.